Cheers to Planning Summit for Bloggers Selling Printables: 2022 Replays
Regular price

Sale price

$97.00
---
Leading experts share how to make money selling printables on your blog.
Grab the Cheers to Planning Summit 2022 Replays where 25+ experts shared actionable strategies on how to create a stress-free plan for creating printables to sell as a blogger.

WITH THESE PRESENTATIONS, YOU'LL...
Uncover strategies that will maximize your printable sales


Run your blog business more efficiently


Know exactly what to focus on when planning your tasks


Understand how to better organize alllll the things


Learn how to get more things done in less time

WHAT YOU'LL LEARN...
Plan & Batch Blog Content Like A Boss by Ana Skyes


Secret Canva Hacks to Find Design Elements That'll Make Your Printables Pop by Caroline Vencil


Strategies to Reduce Distractions by Rebekah Lara


Money Making Mindset Shifts by Faith Mariah


Strategies to Leverage Printable Opt-Ins strong by Tracie Fobes


How To Use Stock Photo Mockups to Show Off Printables by Jasmine Hunt


Legal Essentials For Launching a Printables Shop by Lucrezia Iapichino


And so many more!
 It's an incredible lineup with evergreen strategies that you can implement in 2023 and beyond to help you make more printables on your blog with less overwhelm.
This is a digital product. Nothing physical will ship.
WHAT YOU'LL RECEIVE

✔️ 27 actionable presentations to help you sell more printables on your blog with less overwhelm and more profit!

Get More Done in Less Time:

- How To Make Your To-Do List More Manageable & Reduce Overwhelm - Lucy Reyes
- Plan & Batch Blog Content Like A Boss - Ana Skyes
- 5 Graphics that Make Your Products Pop and Make More Money - Caroline Vencil
- Strategies to Reduce Distractions - Rebekah Lara
- How to Take Back Your Time for Better Productivity & Energy Management - Sarah Steckler
- Make Bank Mindset - Faith Mariah
- Content Planning Tips to Save You Time - Bree Pair
- How To Use Content Stacks to Increase Blog Traffic (& Printable Sales) - Monique Math
- The Business Changing Magic of Being (Digitally) Organized Using Google Tools - Dara Sklar

Blogging Tasks to Focus On:

- Legal Essentials For Launching a Printables Shop - Lucrezia Iapichino
- Driving Organic Blog Traffic Using SEO To Promote Your Printables - Aisha Preece
- How To Leverage Your Printables Blog to Make More Money - Becky Beach
- The Power of Printables for List Building - Tracie Fobes
- How To Legally Protect Your Digital Products - Amira Irfan
- How to Write Blog Posts that Sell Your Printables Like Hot Cakes - Heather Ritchie
- Stop Chasing Blog Traffic and DO THIS INSTEAD - Cate Rosales
- How To Use Image SEO to Rank Your Printable Images - Ruth Adeyemi
- The Crazy Simple Way to Promote Your Printables on Pinterest in 2023 - Nadalie Bardo

Strategies to Maximize Printables Sales

- How To Turn Your Printable Into a Digital for More Revenue - Yadsia Iglesias
- How To Convert Leads Into Printable Buyers in 3 Simple Steps - Liz Wilcox
- How To Successfully Launch Your Digital Products - Jenny Melrose
- Scaling Your Blog with Printables Bundles - Cait Blakley
- Should You Be Charging More for Your Printable Products!? - Amy Harrop
- Secret Seasonal Strategy to Boost Etsy Sales - Cody Berman
- Turning Your Printables into Books You Can Sell for Passive Income - Allie Trumpower
- How to Create Styled Stock Mock Ups for Your Printables - Jasmine Hunt
- Content Creation Tips for Social Media to Promote Printables - Anjali Kay

✔️ Bonus: Exclusive freebies generously provided by many Cheers to Planning Summit 2022 speakers

✔️ Bonus: Private Podcast Feed to listen on-the go, along with transcripts for each presentation.
FREQUENTLY ASKED QUESTIONS

I'm a blogger, but I'm not selling printables yet. Is this still for me?

If you're interested in starting to sell printables through your blog or online shop (Etsy, Shopify etc.), then yes. You'll still gain loads of value from this summit and will ensure you start your printables business on the right foot!

I sell printables but I'm not a blogger. Is this still for me?

Most of the presentations will be combining the unique positioning of having a blog and a printables business. With that being said, there will still be other presentations that may be valuable for you too, and you are welcome to join.

Is the information shared in these 2022 presentations still relevant today?

They sure are! The strategies shared are evergreen meaning they can be implemented at any time of the year, and still relevant this year.
ACCESS INSTRUCTIONS

This course is hosted on my course platform, Thrivecart Learn. Once you checkout, you'll receive an email with login details and next steps. If you already have an account on my course site, you can login here: https://cheerstoproductivity.com/course-login

This is a digital product. Nothing physical will ship.
Share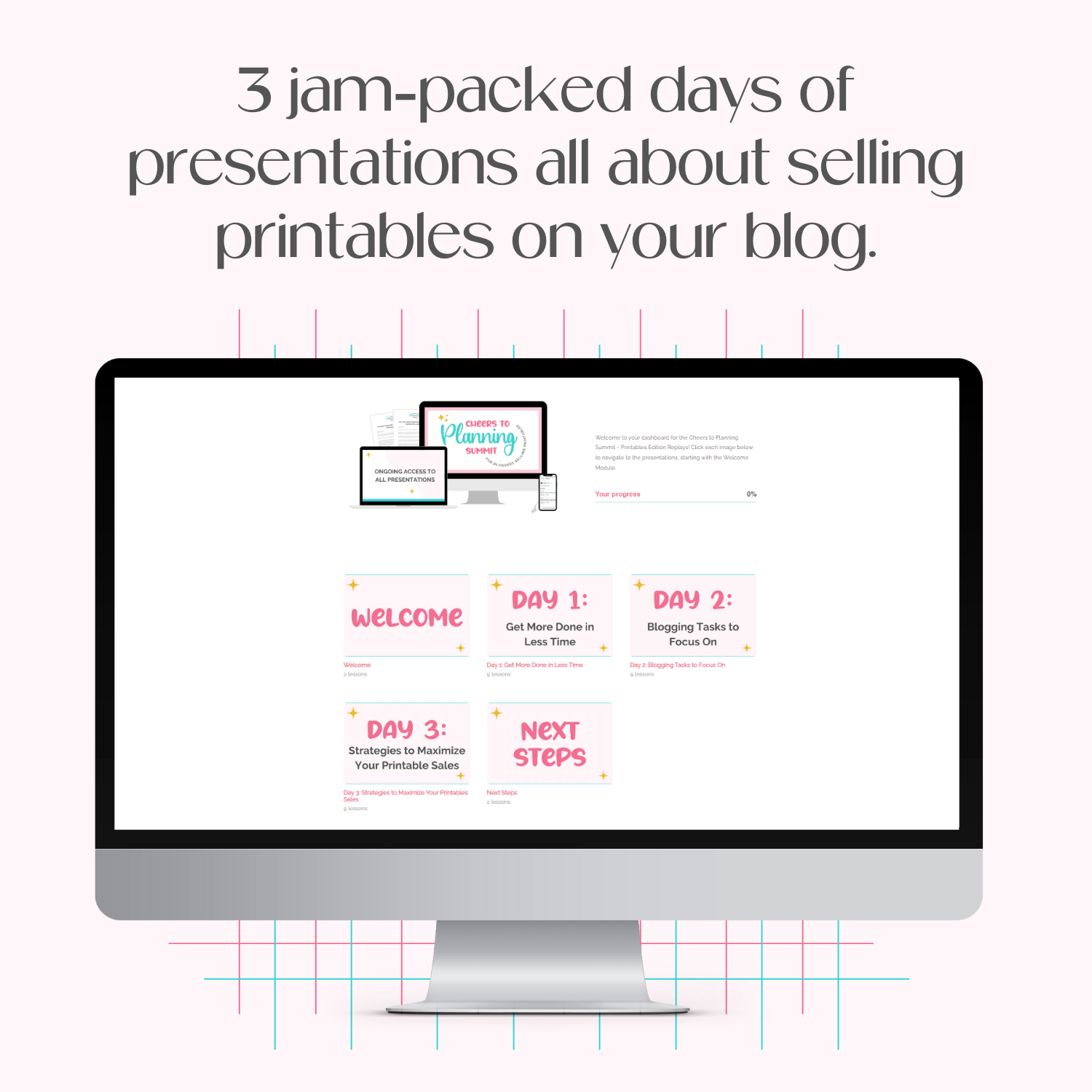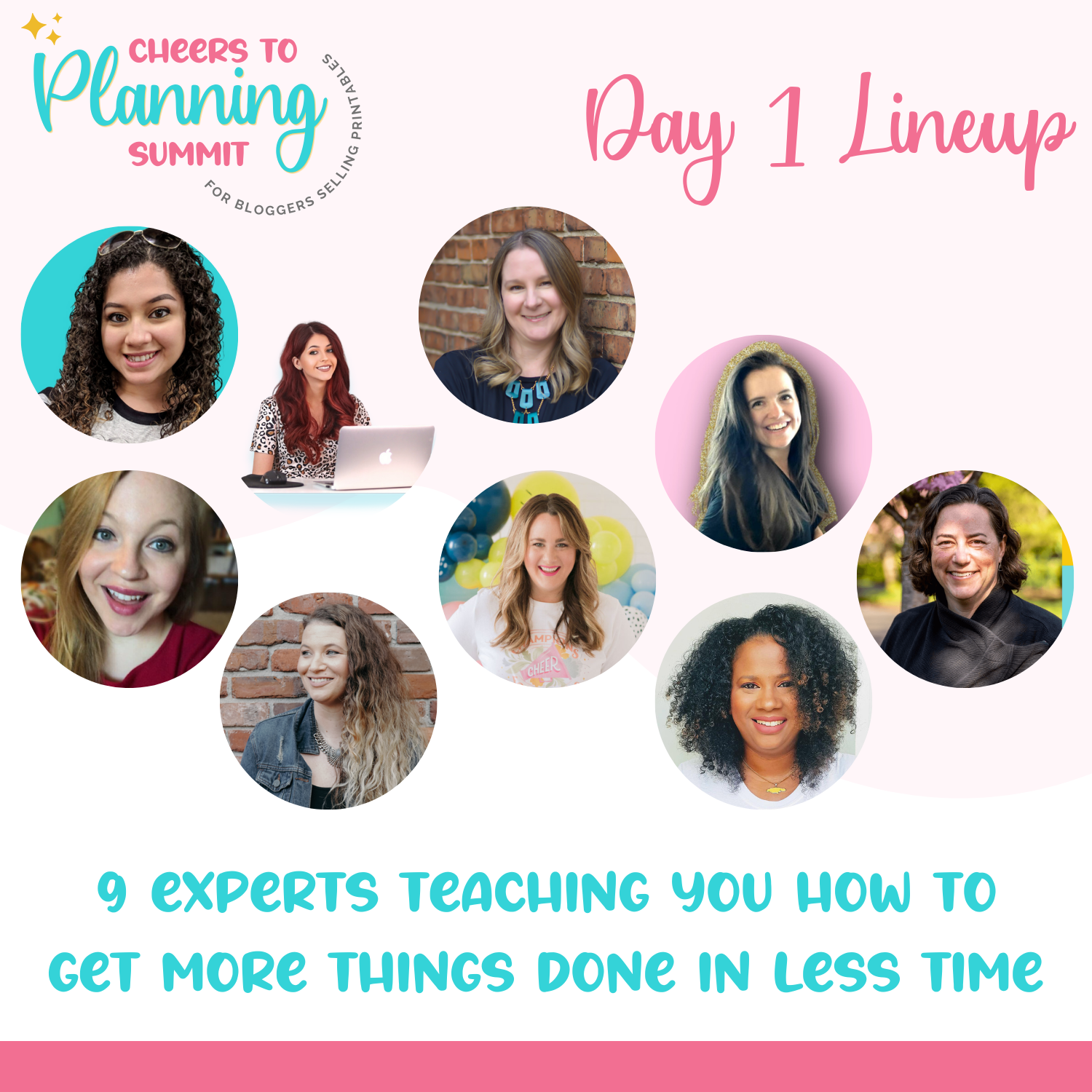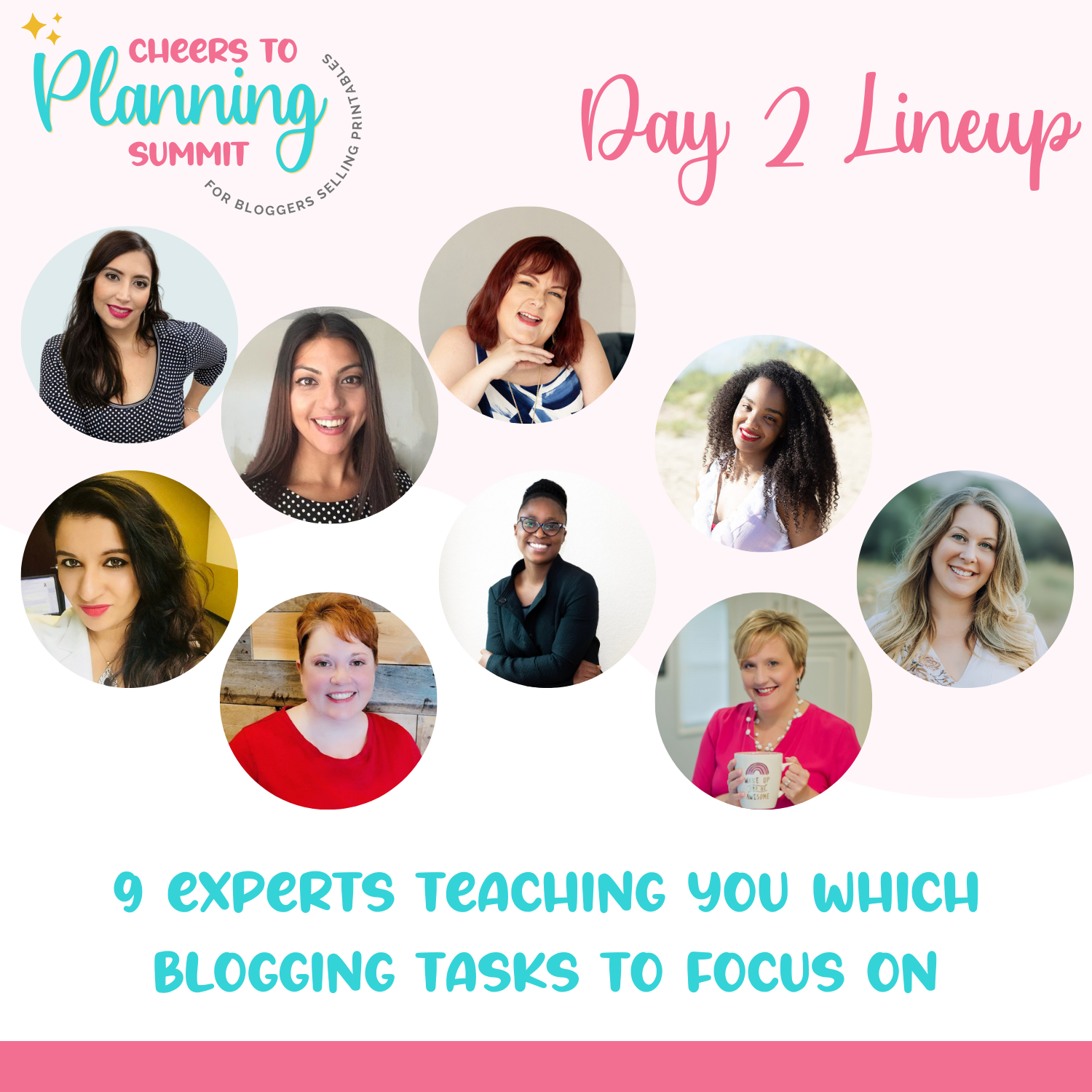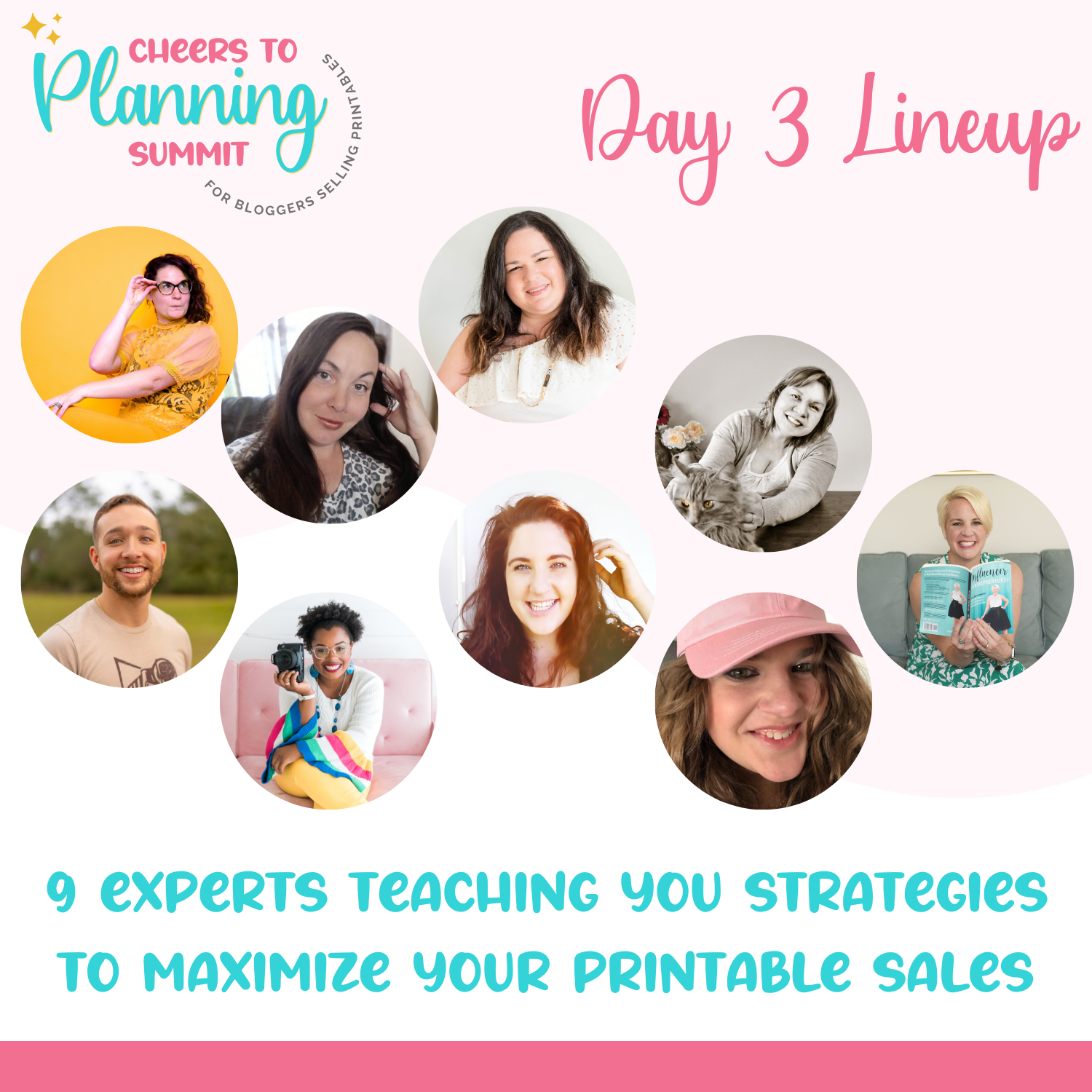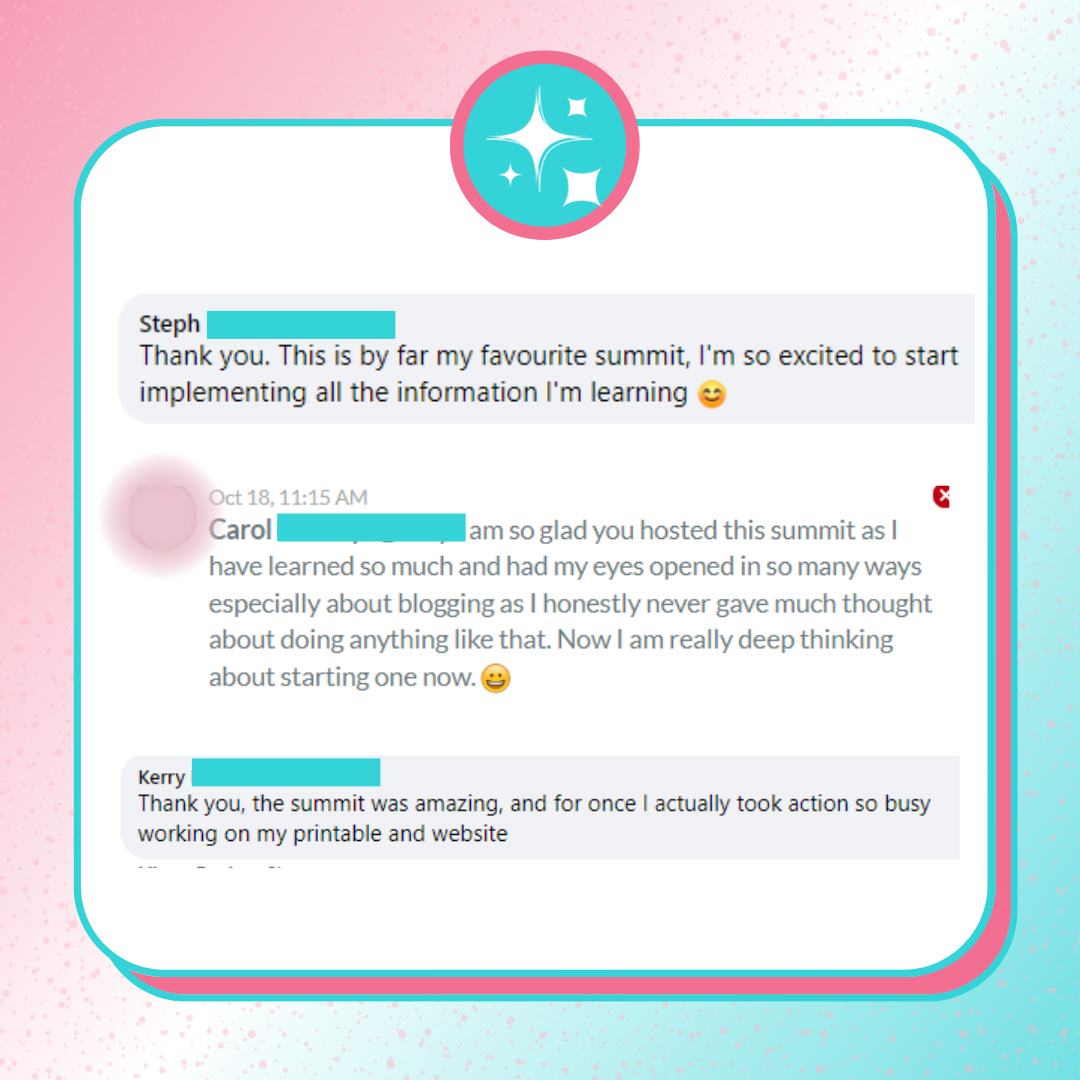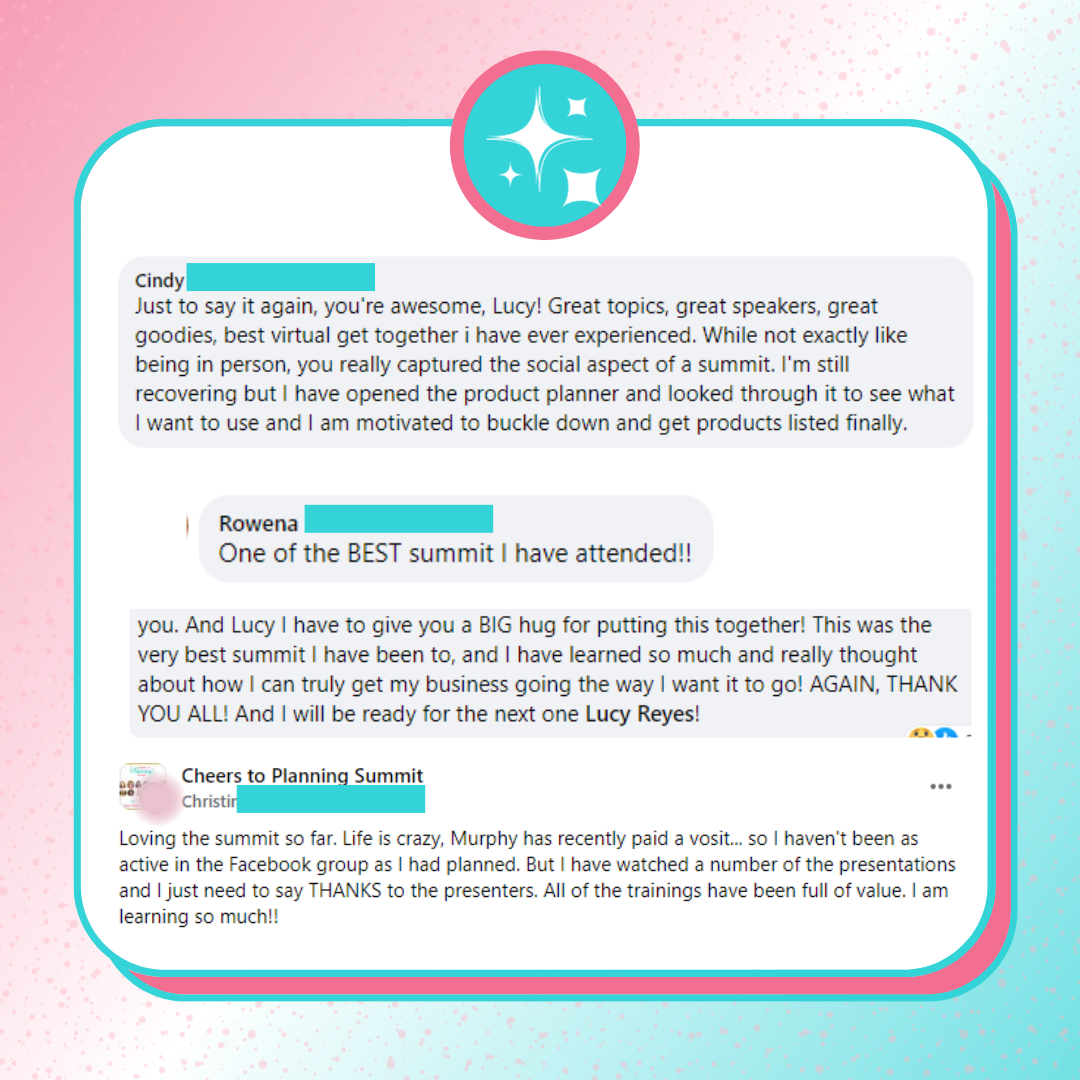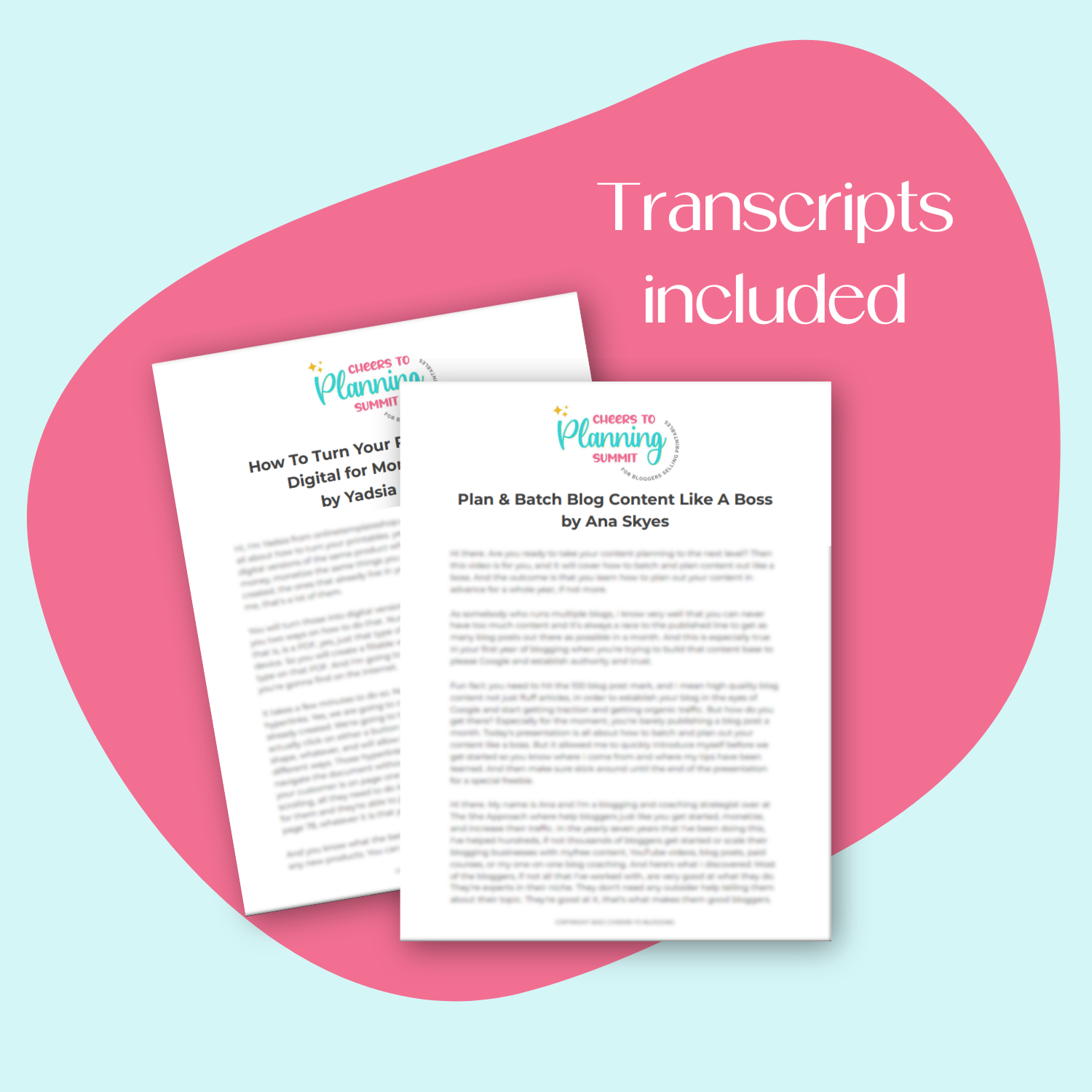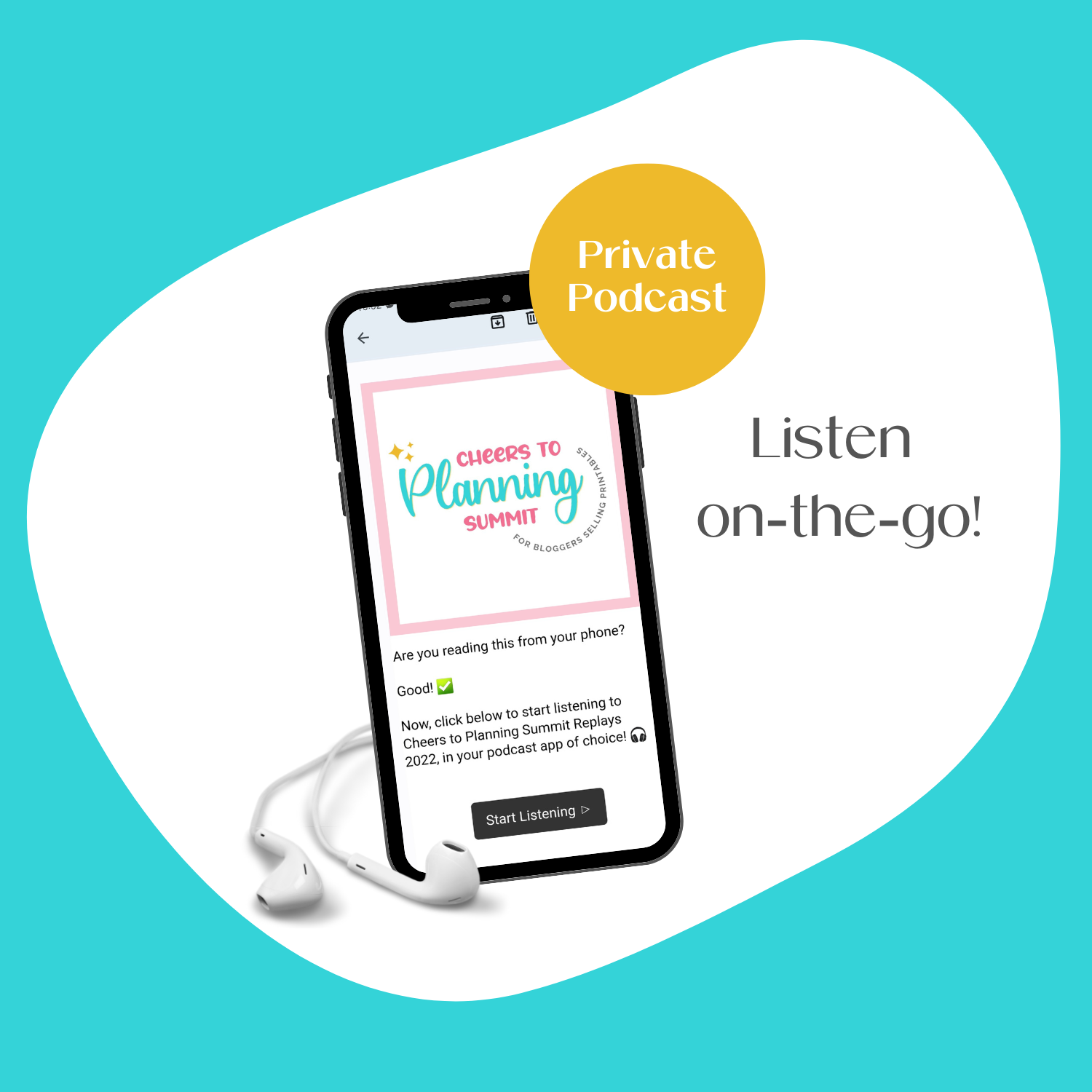 What Others Are Saying






"I felt overwhelmed and just found that I wasn't really using it to it's the full extent. [My favorite part about Weekly Planning in Trello was] it was really quick and simple - not too long winded or wordy. Really easy to watch. I love the template, your course made it easy to understand and I can't wait to have my online business become more organized and easier for me to manage."

Brianna T.
"I never thought of organizing it this way. I will pay more attention to feedback and questions I hear and be sure to add them to [the Struggle Street Template] board."

Laurie J.
"I just finished the Promo Power-Ups course and I really liked it! So actionable and really helpful examples and swipes. I'm now working on updating my P.S. in my welcome sequence."

Megan E.
"If you love attending online summits, but get overwhelmed with the plethora of information and new people to follow, then you REALLY need to see this [Prep for Summit Success (as an Attendee)]! You'll go into your next summit feeling a little more relaxed and ready to learn, just knowing that you'll be able to find everything all in one place. I feel more prepared now to set up my email organization and to create my own Trello boards for new summits."

Misty L.
"I loved it! I've been trying to organize my CK for awhile but never knew exactly how to do it efficiently. I also learned new ways to categorize my list. So it was cool that I learned and implemented more than just coming up with an organized naming convention for my list!"

Kaycee F.
"I was def overwhelmed and scared to look at all my uploads but this made me do it and it's not so bad. I've already deleted 100s of graphics and am creating naming conventions. [Canva Chaos Controlled] was so helpful!"

Sarah Steckler